Best Essential Oils For Lip Gloss Making at Home Guide
What are the best essential oils for lip gloss making? Lip gloss is a super fun beauty product that has recently been making a huge comeback. One of the reasons it's so popular is because it's both beautiful and functional, providing moisture and healing to the lips while delivering lasting shine or shimmer. If you add essential oils to the mix— many of which are famous for their various healing properties— you have a truly winning combination.
The best part about all of this is that with our awesome homemade essential oil lip gloss recipe you can make your own and customize it however you like!
Ingredients Needed for Homemade Lip Gloss
First things first, the consistency of this lip gloss recipe is a little lighter/more liquid than some of the thick gel-like lip glosses out there. Therefore the best way to apply it is with a rollerball bottle.
Here's a list of what you'll need to make this lip gloss:
A rollerball bottle — highly recommended method
Your choice of essential oil for scent and flavor (and health benefits, of course!)
Your choice of carrier oil
In the sections below we will list some popular options for essential oils and carrier oils, so don't worry if you don't have any in mind yet!
Popular Essential Oils for Lip Gloss Making
There are so many wonderful essential oils to choose from for this recipe, and the choice is truly up to you! If you decide to deviate from this list, however, please keep in mind that not all essential oils are safe to use topically (especially around the mouth), so you need to thoroughly research the oil you decide to use before putting it on your lips.
Lavender essential oil
Lavender oil is a super calming oil that has a gentle aroma that's great for adding to lip balm.
Lime essential oil
Lime oil is a fun and tropical option for your lip gloss. This essential oil is known for helping with anxiety, blood pressure, depression, fatigue, memory, immunity, and much more.
Spearmint essential oil
Spearmint is awesome for relieving headaches and respiratory illnesses, and is a great lip gloss flavor thanks to the minty fresh scent.
Peppermint essential oil
Along with spearmint oil, peppermint oil is one to consider if you prefer a minty lip gloss. In addition to smelling fresh, peppermint oil is great for soothing stomach issues, headaches, and more.
Grapefruit essential oil
Grapefruit oil is also a great choice for making lip gloss. This refreshing scent is sure to wake you up.
Orange essential oil
Orange oil is great for immune and hormone support and has even been shown to help reduce symptoms of depression. Not to mention the fact that it smells amazing!
Popular Carrier Oils for Making Lip Gloss
Carrier oils are the star of the show when it comes to making lip gloss. These oils do all the heavy lifting for moisturizing lips and helping maintain that high shine. Here are some great choices for carrier oils for making home made lip gloss.
Jojoba oil
This natural and affordable oil is lightweight in consistency. Jojoba oil is derived from the jojoba plant and is technically a liquid wax. This is a great carrier oil for lip gloss because it heals, moisturizes, and protects the skin.
Castor oil
Yep! This is the same stuff that Mary Poppins made her charges drink with a spoonful of sugar. This natural moisturizer helps hydrate your lips all day long while giving lots of shine.
Fractioned coconut oil
Unlike other forms of coconut oil, fractioned coconut oil is always in a liquid form which makes it perfect for using in lip gloss.
How to Make Flavored Lip Gloss
Now that you know what to use, here's how to make essential oil lip gloss.
Lip Gloss Recipe with Essential Oil
5 drops of your essential oil
Carrier oil of choice
Roller bottle
To make, add your essential oil to the roller bottle and then fill the rest of the way with the carrier oil, leaving a small amount of space from the top. Place the lid on the bottle and mix by rolling the bottle between your palms (like you're trying to start a fire by rubbing sticks together).
Voila! You have your home made lip gloss.
You can customize this recipe by mixing essential oils (2 drops of one and 3 of another), adding some safe colors, glitter, etc.
This lip gloss is super easy to use and makes a great project for kids and adults. We hope you have a blast making it!
Share on Pinterest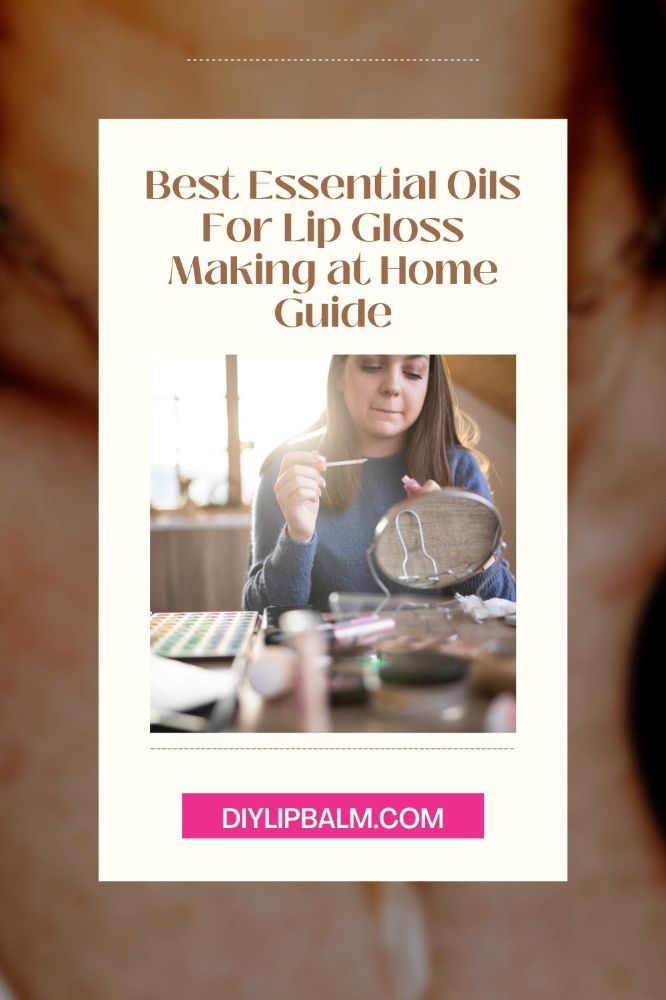 About the Author: Jenni Mac
Hi, I'm Jenni! I am a health and beauty blogger that loves making homemade beauty products. I have been blogging for over three years now, my first blog is RawBeautyBlog.com - it is all about natural products, DIY skin care, inner beauty, and anything else to do with natural living.
Here you will learn all about DIY lip balm! From DIY recipes, to recipes for lip scrubs and glosses, this site has it all! With witty posts about how to take care of your lips in the winter, you'll find everything you need to keep them happy and healthy.
---
2022 © DIY Lip Balm