How to Make Lip Balm at Home with Natural Ingredients
Lip balm is one of the most versatile cosmetics. It helps soothe chapped lips to leave them feeling smooth and soft, so it makes sense why tons of people can't go without it.
Making lip balm at home just takes a few basic ingredients and you can customize your recipes. But the best thing about homemade lip balm is that it's made with all-natural ingredients, so you avoid the chemicals and preservatives found in the store-bought stuff. Read on for the benefits of DIY lip balm and how to start making your own at home!
Basic DIY Lip Balm Recipe
All you need to make a good lip balm is a solid butter like shea or coconut butter, a wax like beeswax or candelilla wax, a carrier oil like jojoba or coconut oil, and a few drops of essential oil for fragrance. Here's our favorite basic lip balm recipe that can be adjusted to your liking with different ingredients:
Ingredients:
2 parts solid butter
1 part wax
1 part carrier oil
A few drops of essential oil
Steps:
Add the butter and wax to a glass measuring cup or any other glass jar that allows you to pour easily.
Place the measuring cup in a pot filled with 2 inches of water – this is known as a double boiler and can help you melt the ingredients more evenly.
Melt over medium heat for around 10 to 15 minutes.
Add the carrier oil and stir well.
Remove from heat and add the essential oil.
Carefully pour into lip balm tubes or any other type of container you want to use.
Allow the mixture to cool and solidify for about 30 minutes before using.
What ingredients should you use?
You need solid butter, wax, carrier oils, and essential oils to make a basic lip balm. But which type of each should you use? Here's our breakdown:
Solid Butter
The fats found in solid butter firm up the lip balm while hydrating your lips. The most popular types of solid butter used in lip balms are cocoa butter, shea butter, and mango butter.
Cocoa Butter
Cocoa butter is derived from cocoa beans and has a delicious chocolate aroma. It's soft and silky, which helps create a protective barrier to retain moisture in your lips.
Shea Butter
Shea butter is extracted from shea tree nuts and has a soft, creamy consistency that easily spreads across your skin and lips.
Mango Butter
Mango butter is derived from mango seeds and is soft to the touch. It's also packed with nutrients which makes it perfect for healing and protecting your lips.
Wax
Cosmetic-grade wax helps solidify your lip balm by keeping the liquid ingredients together. The most popular type of wax to use in lip balms is beeswax, but there are several different alternatives for people who are sensitive to beeswax or prefer a more environmentally sustainable option.
Beeswax
Beeswax is secreted by honeybees and is found in most DIY lip balm recipes. It naturally hardens lip balms without becoming waxy and stiff.
Candelilla Wax
Candelilla wax comes from the leaves of the Candelilla shrub found in Mexico. It's the most frequently used alternative to beeswax since it gives lip balms gloss and hardness without being too sticky.
Carnauba Wax
Carnauba wax is derived from the leaves of Carnauba palm trees and has a high melting point, which helps harden your lip balm.
Soy Wax
Soy wax is extracted from soybeans and naturally hardens while being cheaper than other beeswax alternatives.
Carrier Oil
Carrier oils are full of vitamins and nutrients and provide most of the moisturizing properties of lip balm. Some of the common oils used in lip balms are coconut oil and jojoba oil.
Coconut Oil
Coconut oil is extracted from coconuts and works as a protective layer for your lips to help them retain their natural moisture.
Jojoba Oil
Jojoba oil comes from the seeds of the Jojoba plant and has hydrating and antioxidant properties, so it can help heal chapped lips.
Essential Oil
Essential oils are used in small amounts to add fragrance and extra health benefits to your lip balm. Some common types of essential oils used in lip balms are:
Peppermint Essential Oil
Orange Essential Oil
Lavender Essential Oil
Rose Geranium Essential Oil
Try mixing and matching essential oils to create fun, unique lip balms that keep your lips soft and smell great!
Share on Pinterest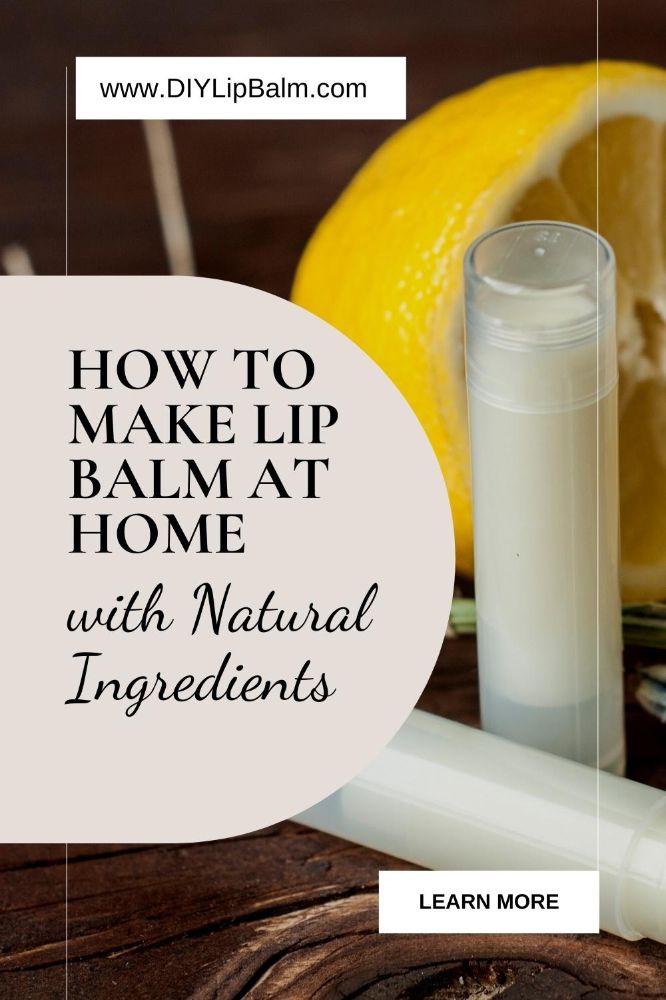 About the Author: Jenni Mac
Hi, I'm Jenni! I am a health and beauty blogger that loves making homemade beauty products. I have been blogging for over three years now, my first blog is RawBeautyBlog.com - it is all about natural products, DIY skin care, inner beauty, and anything else to do with natural living.
Here you will learn all about DIY lip balm! From DIY recipes, to recipes for lip scrubs and glosses, this site has it all! With witty posts about how to take care of your lips in the winter, you'll find everything you need to keep them happy and healthy.
---
2022 © DIY Lip Balm