Is Shea Butter Good For Lips? Benefits and Uses
Is shea butter good for lips? Shea butter is a wonderful fatty oil that can be used to heal and moisturize the skin, hair, and lips, and can even enhance nutrition and health when ingested.  Shea butter is popular around the world, but it originates in Africa, which is the native home of the vitellaria tree— the tree that bears the nuts from which shea butter is harvested.
To make shea butter, the fatty oils are extracted from the vitellaria nut and then processed until they produce shea butter. Shea butter can come in either a refined or unrefined form, and it has a ton of wonderful and helpful uses.
Shea Butter for Lips Benefits
Here are just some of the benefits of shea butter:
Can protect the skin from UV rays
It acts as an anti-inflammatory
Is rich in antioxidants
It heals burns, rashes, and insect bites
Is great for anti-aging
Helps maintain skin elasticity
Treats razor burn
Heals eczema and blemishes
Moisturizes
Given all of the amazing benefits of using shea butter, it's no surprise to anyone that shea butter is a very popular choice for adding to lipsticks and lip balms, or even just applying directly to the lips.
Use it as a Lip Treatment and Home Remedy
One of the best ways to use shea butter on the lips is as a treatment for lips that need some serious TLC. The healing properties of shea butter make it great for healing sunburned lips, protecting against dry winter weather, healing cracking lips, and more. On top of all of that, when you use shea butter on your lips you're also helping moisturize and repair them, which protects them from further damage down the line.
Additionally, as mentioned earlier, one of the most surprising benefits of shea butter is that it can protect your skin from the damaging UV rays of the sun. People tend to forget to apply sunscreen to their lips which can result in sunburnt lips and it can accelerate the appearance of aging and fine lines in the lips and around the mouth. If you keep shea butter or a shea butter infused lip balm on hand, though, you can protect the delicate skin of your lips from being burnt by the harmful UV rays.
Is Shea Butter Good For Lips?
If you aren't already convinced that shea butter is a great option for moisturizing your lips, here are some more facts for you. Even though shea butter has the name "butter" in it, in actuality it's a very dense, fatty oil that is very good at penetrating through the skin to enhance and protect your cells.
It also is jam packed with vitamins and nutrients, which is one of the reasons it's so popular. Some of the vitamins in shea butter include Vitamin E which helps soothe and lubricate the lips, Vitamin A which also soothes as well as prevents dryness from occurring, Vitamin K which stops bleeding (great for super chapped or cracking lips), and Vitamin F which is a healthy fat that seals in moisture.
Furthermore, shea butter is very emollient, which basically means it's great for moisturizing and preventing dryness from occurring. Shea butter works its magic by penetrating deeply into the skin with its 60% fat content made up of linolenic, palmitic, oleic, and stearic acids, all of which are essential fatty acids that promote collagen production.
Lastly, the anti-inflammatory and anti-aging properties of shea butter help keep your lips looking full and plump and also work to smooth out the texture of your lips.
How to Use Shea Butter on Your Lips
The answer to this prompt is pretty simple: you can use it however you want! Shea butter is easy to use and has so many benefits, and you can't over apply it.
That being said, there are some things you can to do maximize the benefits of using shea butter on your lips. These include washing your lips with a mild cleaner before hand, gently exfoliating to get rid of flaking dead skin, and gently patting lips dry before applying shea butter.
Please be sure to only ever exfoliate your lips very gently, because the skin on your lips is very thin and delicate and you can actually do some damage if you're not careful.
Lastly, please keep in mind that shea butter is only non-toxic to consume when in its fully raw and unrefined form, so avoid eating shea butter unless you know that it has these attributes.
Share on Pinterest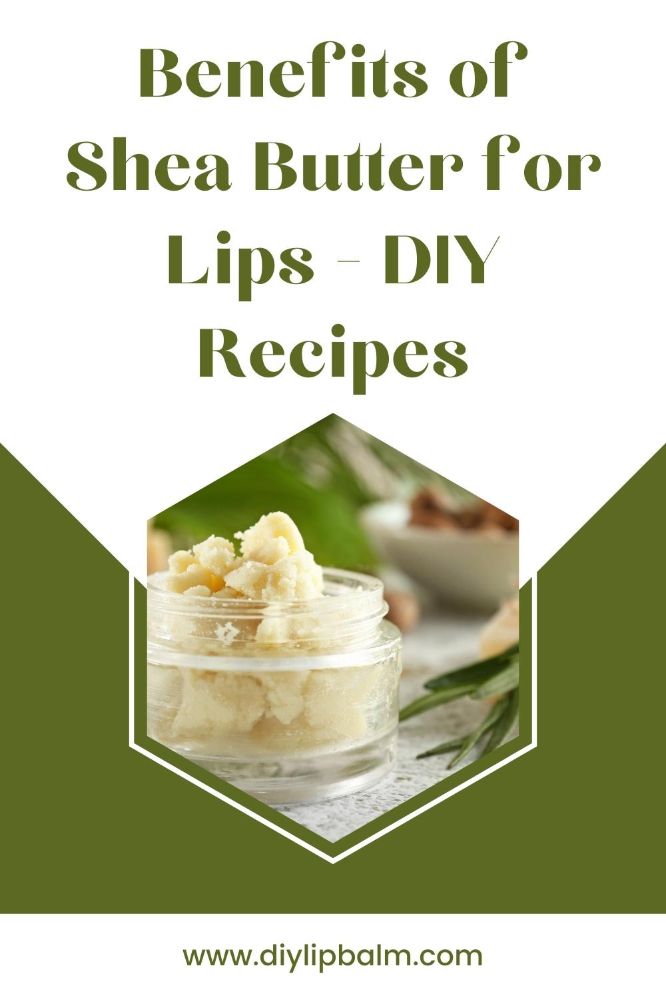 About the Author: Jenni Mac
Hi, I'm Jenni! I am a health and beauty blogger that loves making homemade beauty products. I have been blogging for over three years now, my first blog is RawBeautyBlog.com - it is all about natural products, DIY skin care, inner beauty, and anything else to do with natural living.
Here you will learn all about DIY lip balm! From DIY recipes, to recipes for lip scrubs and glosses, this site has it all! With witty posts about how to take care of your lips in the winter, you'll find everything you need to keep them happy and healthy.
---
2022 © DIY Lip Balm