How to Make DIY Lip Gloss Without Beeswax
Lip gloss is so much fun to make at home because it's so easy to customize with your own natural colors and fragrances. All it takes to make your own lip gloss are a few basic ingredients, and you'll end up with a lip gloss that looks great, keeps your lips soft, and costs way less than anything you could buy at a beauty store.
One of the best things about making DIY lip gloss is that you get to choose exactly what goes into it. Most of the store-bought brands add synthetic preservatives, artificial fragrances, and artificial coloring to their lip gloss products, so you end up coating your lips in a bunch of chemicals that you probably can't even pronounce. By making lip gloss at home, you can use all-natural ingredients instead!
Most DIY lip gloss recipes call for solid butter, carrier oils, essential oils, and beeswax. However, some people prefer vegetable-derived alternatives to beeswax, either because they're allergic to the components of beeswax or because they prefer a vegan option. In this blog, we'll go over beeswax substitutes and our favorite DIY lip gloss recipe for you to make at home.
Alternatives to Beeswax
Beeswax acts as the solidifying agent in lip gloss. If you're leaving it out, you'll have to replace it with another waxy, solidifying ingredient to keep the rest of your liquid ingredients together. Here are the most used beeswax alternatives:
Soy Wax
Soy wax is derived from soybeans, which are used across the world in food, skincare, and cosmetics. However, a lot of soybeans produced today are GMO, so look for cosmetic-grade, non-GMO soy oil for your DIY lip gloss. Soy wax has a high melting point and a smooth, silky texture similar to that of beeswax, so it's a great, hydrating vegan substitute to use in lip gloss and other cosmetics.
Candelilla Wax
Candelilla wax is extracted from the Candelilla plant that grows in Mexico and the southwestern United States. It's a hard wax, just like beeswax, so it can help firm up your lip gloss while adding shine and moisture to your lips.
Carnauba Wax
Carnauba wax is made from the carnauba palm, which is native to Brazil. It has a high melting point and hardens well, so it's a common replacement for beeswax in many DIY cosmetics recipes.
DIY Soy Wax Lip Gloss Recipe
Our DIY lip gloss recipe uses soy wax, which is our favorite beeswax alternative since it's softer and creamier than the other alternatives. It has the same hardening properties as beeswax, so you can use the same amount as you'd use in a traditional beeswax recipe. Alternatively, you could leave the wax out altogether if you prefer a lip gloss that's more of a liquid.
Ingredients:
4 tbsp grapeseed oil
2 tbsp shea butter
2 tbsp unrefined coconut oil
2 tbsp soy wax
10 drops of orange essential oil for fragrance (optional)
1/8 tsp red mica powder for coloring (optional)
Steps:
Add the oil, butter, and soy wax to a glass measuring cup or any other glass jar that allows you to pour easily.
Place the measuring cup in a pot filled with 2 inches of water – this is known as a double boiler and can help you melt the ingredients more evenly.
Melt over medium heat for 10 to 15 minutes.
Add the essential oil and red mica powder. Mica powder is a natural mineral powder that adds color to your lip gloss, so the more you add, the darker the shade will be. The essential oil is used to give your lip gloss fragrance but can also provide great benefits for your lips.
Mix everything until it's evenly melted and pour into lip gloss containers.
Allow the mixture to cool for at least 20 minutes before applying.
Customizing Your Lip Gloss
You can completely customize your lip gloss using a variety of essential oils and different shades of mica powder! Mix and match scents and colors to create a whole arsenal of DIY lip gloss.
However, make sure whichever essential oils you use are safe for your lips. Some essential oils are sensitizing, which can cause redness and irritation to your lips and the skin around them, while others are phototoxic, which can make your lips more sensitive to UV rays. Always check that the essential oil you want to use is safe before putting it in your lip gloss!
Share on Pinterest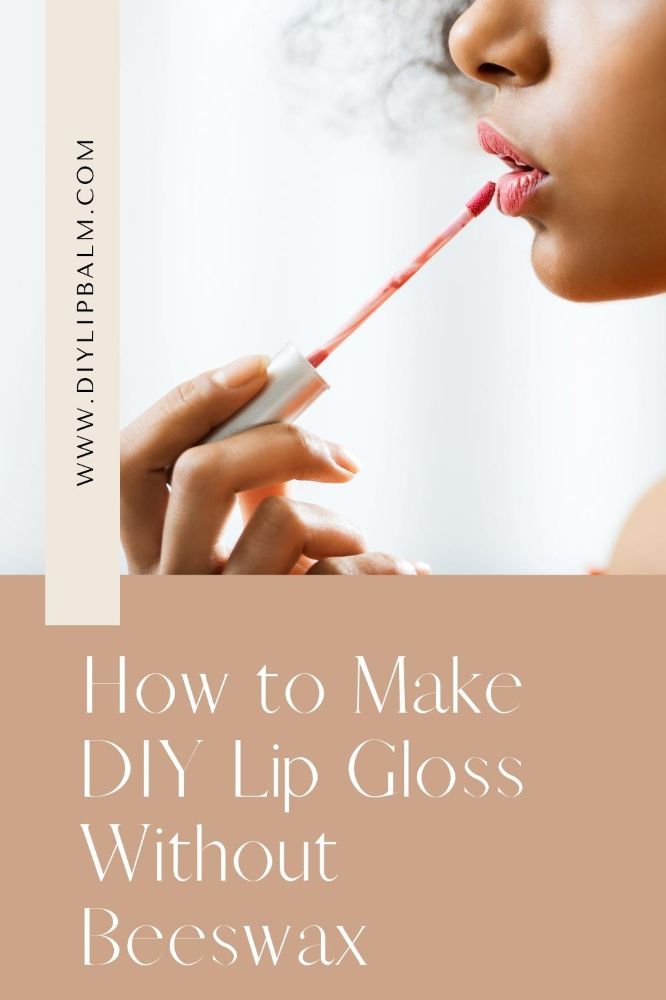 About the Author: Jenni Mac
Hi, I'm Jenni! I am a health and beauty blogger that loves making homemade beauty products. I have been blogging for over three years now, my first blog is RawBeautyBlog.com - it is all about natural products, DIY skin care, inner beauty, and anything else to do with natural living.
Here you will learn all about DIY lip balm! From DIY recipes, to recipes for lip scrubs and glosses, this site has it all! With witty posts about how to take care of your lips in the winter, you'll find everything you need to keep them happy and healthy.
---
2022 © DIY Lip Balm